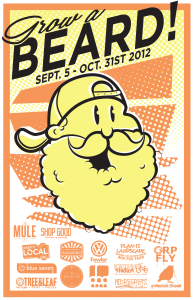 (Click on image to view a larger version.  Then use your "back" button to return to this post.)
Be sure to check out the online beard-growing contest that's now well underway.  Tree and Leaf Clothing is running the contest, which has become an annual event.  Go to the beard contest section of Tree and Leaf's web site to view a fine array of aspiring beard growers.  Beard growth updates are posted weekly.  Be sure to click on "Read More" on each week's update to see the photos.
UPDATE, October 2016: Beard contest links are now missing in action and have been removed.  You can still find Tree and Leaf Clothing at their web site: http://www.treeandleafclothing.com .