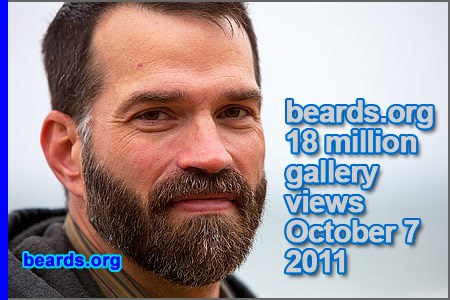 At approximately 5:07 PM Pacific Daylight Time on October 7th, the beards.org gallery views counter hit eighteen million!  It's a worthy milestone.  Now, let's get more visitors to beards.org and hit nineteen and twenty million in record time!
So which was the eighteen-millionth photo viewed in the gallery?  Well, the true number of gallery views is unknown and is actually higher than the current count at any given moment.  The number got rolled back a bit after a server hard disc failure some years ago.  Also, the number only reflects gallery views since the current gallery system was implemented on the site on January 26, 2006.  Also, when photos get deleted, their views are subtracted from the count.
The eighteen-millionth photo viewed is largely ceremonial, because the true number is larger and unknowable.  Yet it does provide a meaningful milestone since the seventeen million mark was reached.  We hit eighteen million views not long after today's update of the beards of the world gallery.  So I was here to see the ceremonial eighteen-millionth winner:
Holder of the title of the eighteen-millionth gallery photo viewed is Justin.  He appears to be viewing the world through rose-colored glasses.  Click on his photo to see the larger version.  Congratulations, Justin!
Thanks, everyone, for your continued interest in beards and beards.org!