Sunday, January 17th, 2010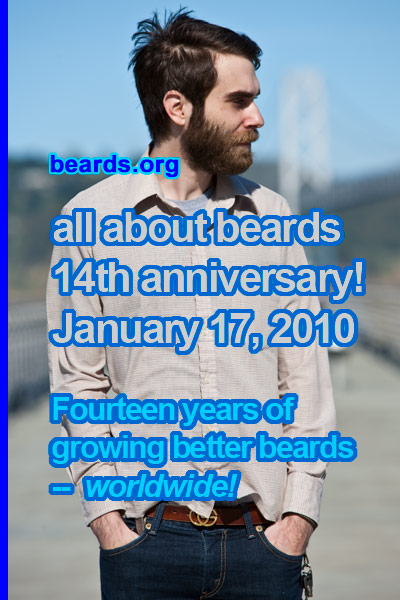 On January 17, 1996, all about beards first appeared on the worldwide web.  The site started out on web space provided for AOL members.  The host name was members.aol.com.  On January 20, 2005, all about beards officially moved to its permanent home at beards.org.  The legacy all about beards site on members.aol.com was left up for sentimental reasons until AOL pulled the plug on it on October 31, 2008.  All that remains of the AOL site's legacy is that the official site contact email address is still the original AOL email address that has been used since the January 1996 launch of all about beards.
Today on the site's fourteenth anniversary, the site is bigger and stronger than ever, with the momentum ever increasing.  More importantly, the site has encouraged and inspired countless men around the world to experience the unique adventure of growing a beard with great success.   The site remains dedicated to "growing better beards worldwide", "adding more beards to the world", and increasing the acceptance of beards everywhere.  I'd like to thank all of the beard growers and supporters everywhere whose beard-growing contributions have strengthened all about beards and advanced the bearded cause around the world.